Transformers:
Molded Transformer for P.C.B with Impute Voltage 220V or 110v
Series: 44xxx & 45xxx
50/60Hz PCB Mount Transformers - EI Range & UI Range (44000, 45000 series)
Size EI30 to EI66 - 1 or 2 secondaries
Output Power 0.5 to 30VA voltage 6V to 2x24V
50/60Hz Chassis Mount Transformers - FLC/FLF Range (30000 series)
50/60Hz Toroidal Transformers (60000 series)
Power Ferrite Transformers (74000 series)
Common Mode Chokes (74300 series)
Current Transformers (74500 series)
Toroidal Chokes (74100 series)
Drum core Chokes (74450 series)
Power Factor Correction Chokes (74200 series)
Pulse Transformers (74600 series)
For Mosfet or IGBT control, SCR triggering, DC/DC conversion
Line coupling Transformers (74700 series)
For Telephone Line coupling (600 Ohms)
For Power Line coupling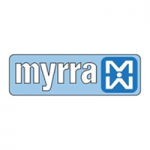 ---
World famous and just as popular, the reliability and the quality of Myrra's transformers are due to an ongoing further development and production optimization. Myrra's operations are always at the latest state-of-the-art. In-house developments such as the encapsulated transformers, switching transformers and power transformers with real added value set standards across the entire sector. Since the company's establishment in 1950 Myrra has become a major operator in the field of transformers for electronic applications. Myrra has ambition to become, in the three following years, number one in Europe concerning the molded transformers.